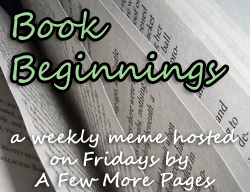 Katy at
A Few More Pages
has a meme that she does on Fridays. And it's an incredibly simple meme at that. Share the first couple of lines of the book (or books) that you're currently reading. Make sure to include title and author. And if you'd like, tell us what you think of it. Then go over to A Few More Pages and
link up
.
Since I'm usually a polyamorous reader, I have a few first lines to share today.
First, from the eBook that I'm reading. It's a reread for me, but it's been awhile since I'd read it. And it is one of my favorites.Neil Gaiman's
American Gods.
I'm reading the 10th Anniversary edition, so there are a lot of words before the story starts - dedications, words from the author, notes about the text, an epigraph and a quote. I'm skipping all of that and starting with the first words of the story itself as it was written by Gaiman.
Shadow had done three years in prison. He was big enough, and looked don't-fuck-with-me-enough that his biggest problem was killing time. So he kept himself in shape, and taught himself coin tricks, and thought a lot about how much he loved his wife.
I have long been a fan of anything that Gaiman writes. His comics, his fiction, his television scripts, his movie scripts, his blog... I could like it forever. And I knew that
American Gods
wasn't going to disappoint me. And I was write. Even from the first paragraph, I had an idea who Shadow was, even if I didn't know what his story was going to be. It intrigued me from the very beginning, to see if I could care about a guy who spent three years in prison for who knows what crime. And I did care about Shadow before the end of the first chapter. Because that's what Gaiman does - he makes his characters incredibly real.
For an audio book, I've started listening to
Home Improvement: Undead Edition
, edited by Charlaine Harris and Toni L.P. Kelner. This is the fourth anthology in their series which puts together two things you'd never think of - like vampires and birthdays (their first anthology,
Many Bloody Returns
) or werewolves and Christmas (
Wolfsbane and Mistletoe
). I've read two of the previous three series and knew that Harris and Kelner had a knack for finding the write talent for their anthologies. Again, there is an introduction that I'm skipping (though it's wonderfully fun to read) and diving straight into the first story - "If I Had a Hammer" by Charlaine Harris.
"If I had a hammer," I sang, as I used the measuring tape and a pencil to mark where I needed to drill.
From the next room, Tara called, "I'm going to leave if you're going to sing."
This story is set in Harris's Southern Vampire (or True Blood) world. I always know I'm going to love a story about Sookie, because she's got a lot of spunk and I LOVE that about her. Harris writes with a wonderful amount of wit that has me laughing every time I read it. I can't speak to the rest of the stories in the anthology - I just started listening to it today - but I suspect that they'll all stand up to the usual quality.
Finally, there's the actual paper book that I'm reading -
For the Love of Books
by Ronald B Shwartz. I don't remember how I found out about this book... looking for books on books, I suspect. But in it are essays and interviews from 115 different writers, spanning all genres and mediums, telling the reader what books got them on the path to writing. I'm finding some excellent new book fodder there.
As with the other two books above, I am skipping the beginning dedication and the blurb about the first writer and going straight into the essay. This is by
Diane Ackerman
.
When I first started writing poetry in a serious way, as a college freshman, I carried a copy of Wallace Stevens' Collected Poems in one pocket and Dylan Thomas' in another.
For me, this was the perfect glimpse of the beginnings of a writer... keeping books with you that inspire you. And they did for Ackerman, or so it seems. I've read through several of the writers, though I haven't even reached the halfway point yet. I've found a few essays that I just think, "Eh" and others that has me reaching for my Book of Books list to write down a title that sounds particularly interesting. It's a slow read for me, but a very,
very
good one.
So that's a look at what I'm reading this week. What about you?